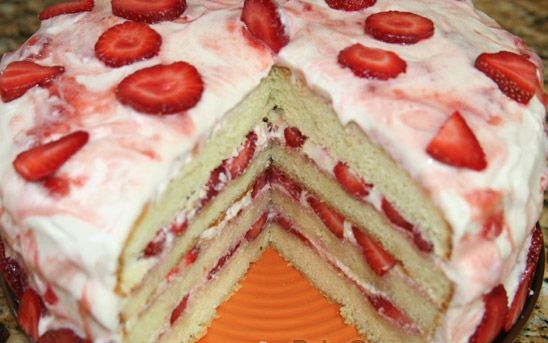 Hey there! You may be wondering what this indulgent strawberry layer cake recipe is doing on a paleo-ish food blog. Well…. it dates back to when I wasn't a paleo-ish blogger, and it's my FAVORITE white cake for birthday cakes. And it's apparently one of your favorites, too, because it's been flying around Pinterest like crazy for the past few years.
Eventually I'd like to clean it up and make it (at least) gluten and dairy-free, but in the meantime it'll stay and have a home here on my blog as totally-worth-it recipe we'd indulge in. It makes a pretty spectacular birthday cake.
Ingredients
Frosting:
2 8-oz packages of cream cheese, room temperature
1 cup (2 sticks) unsalted butter, room temperature
4 cups powdered sugar
1/2 cup seedless strawberry jam
3/4 cup chilled heavy whipping cream
Cake:
3 cups cake flour
3/4 teaspoon salt
1/2 teaspoon baking powder
1/2 teaspoon baking soda
3 cups sugar
1 cup (2 sticks) unsalted butter, room temperature
7 large eggs
2 Tablespoons vanilla extract
1 cup sour cream
6 Tablespoons plus 1/3 c seedless strawberry jam
2 1/4 pounds strawberries, hulled, sliced (about 6 cups), divided
Instructions
For the frosting, beat cream cheese and butter in a large bowl until smooth. You'll probably want to use an electric mixer for this so you don't end up with lumps. Stop every now and then to scrape down the sides of the bowl. Beat in sugar, then jam.
Beat cream in a separate, chilled, bowl until peaks form. Fold whipped cream into frosting. Cover; chill for a couple of hours until it's firm enough to spread.
For the cake, preheat the oven to 325 degrees F. Butter and flour two 9-inch cake pans with 2-inch high sides.
In a medium bowl whisk together flour, salt, baking powder, and baking soda. In a large bowl, cream butter and sugar together until light and fluffy. Add eggs, one at a time, beating after each addition. Beat in vanilla. Add sour cream, and beat for 30 seconds. Add flour mixture in three additions, beating to blend after each addition.
Divide batter into prepared pans. Bake cake until a toothpick inserted into the center comes out clean, 50-60 minutes. Remove from oven and cool for 10 minutes.
Run a sharp knife around the edges of the pans, then turn cakes out onto a rack to cool completely. (You may even want to refrigerate them for a couple of hours to make this next step easier.)
Using a serrated knife, divide each layer in half horizontally. Place one half, cut-side down, on a cake plate. Spread 2 T of strawberry jam over the cake, then spread 3/4 c of the frosting over the jam. Arrange 3/4 c of the sliced strawberries on top of the frosting in a single layer. Repeat two more times with cake layer, jam, frosting, and strawberries. Top with remaining cake layer, cut side down.
Spread two cups of frosting over the top and sides of the cake in a thin layer, then frost with remaining frosting. Stir remaining jam to loosen, then spoon teaspoonfuls onto the top and sides of the cake. Use the back of a spoon to swirl jam decoratively into the frosting.
Notes
As you can see, I used a 9×13 cake pan and did three layers instead of four. This makes a LOT of cake. (Which seems to justify the pound of butter (between the cake and the frosting) and 7 eggs, no?) It fed well over 20 people at Sophie's party. It does take longer to bake that way. I think I baked it for an hour and 5 minutes or so. Begin the toothpick tests at around 55 minutes, though.
Because I decorated her cake, I didn't swirl jam into the frosting.