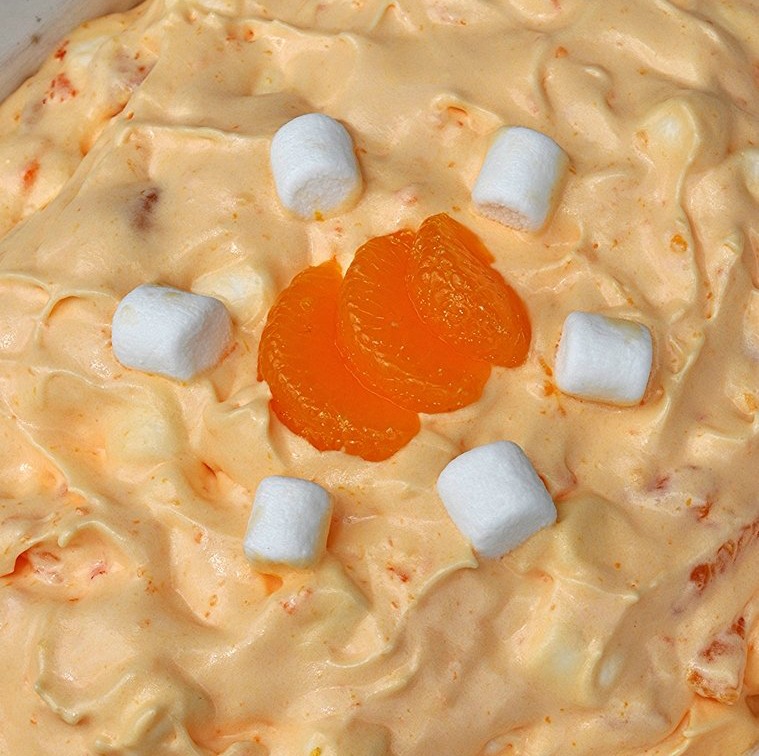 This Orange Creamsicle Salad satisfies my dessert cravings AND is light enough to serve as a barbecue side dish! No matter the time, it's a great fluffy, sweet compliment to any meal!
Is it a salad or is it a dessert? You decide. This Orange Creamsicle Salad is an old-fashioned favorite that pleases even the youngest crowds. It's perfect for a light, summery dessert, and it goes great alongside a heavy holiday meal. There's no time you can't serve this salad!
The tang of the juicy mandarin oranges surrounded by sweet cream makes this dessert salad feel decadent and rich without heavy and too much after a meal! I like to make this for a quick weekend dinner because it's half fruit salad, half healthier dessert option!
Ingredients:
1 box orange Jell-O
1 box instant vanilla pudding
1 cup boiling water
1/2 cup cold water
1 Cool Whip 8 oz.
1 can mandarin oranges 14 oz. , drained
1 cup mini marshmallows
Instructions:
In a large bowl combine orange Jell-O and boiling water.
Whisk until Jell-o is dissolved.
Add cold water and allow to chill for 15 minutes in refrigerator.
Slowly whisk in vanilla pudding mix until smooth and chill for another 15-20 minutes or until it becomes slightly thickened.
Fold in Cool Whip, mandarin oranges and marshmallows