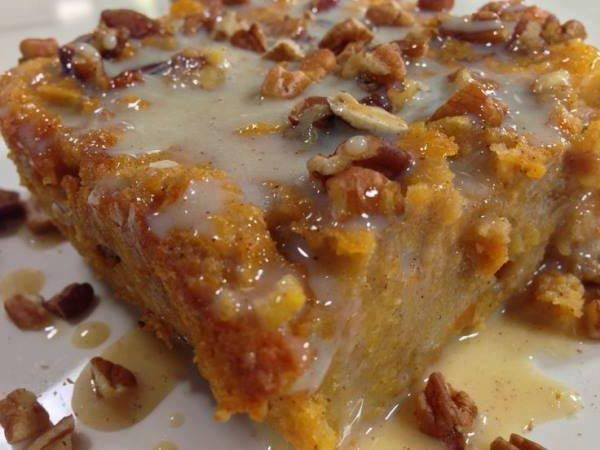 We found this recipe tucked inside my mom's Bible when going through her things. It has become a family tradition on the first snow day of the year and if that doesn't happen, which can be the case here in central Virginia, we know it'll be the featured dessert at Easter and anytime a comfort food is in order.By GAIL COBILEPrep:15 minsCook:1 hrAdditional:10 minsTotal:1 hr 25 minsServings:8Yield:8 servings
Ingredients
Ingredient Checklist
3 eggs, beaten
1 ½ cups white sugar
2 tablespoons light brown sugar
½ teaspoon ground cinnamon
¼ cup butter, melted
3 cups whole milk
10 slices hearty farmhouse-style bread, toasted and cut into cubes
1 cup raisins
½ cup light brown sugar
1 tablespoon all-purpose flour
1 pinch ground cinnamon
1 egg
2 tablespoons butter, melted
1 ¼ cups whole milk
1 pinch salt
1 tablespoon vanilla extract
Directions
Step 1Preheat oven to 375 degrees F (190 degrees C). Grease a 2-quart baking dish.
Step 2In a mixing bowl, whisk 3 eggs, white sugar, 2 tablespoons of light brown sugar, 1/2 teaspoon of cinnamon, 1/4 cup of butter, and 3 cups of whole milk together, and gently stir in the bread cubes and raisins. Lightly spoon the mixture into the prepared baking dish.
Step 3Bake in the preheated oven until browned and set in the middle, 50 to 55 minutes; cover the dish with foil after 30 minutes to prevent excessive browning. Let the pudding stand for 10 minutes before serving.
Step 4For vanilla sauce, whisk 1/2 cup of light brown sugar, the flour, a pinch of cinnamon, 1 egg, 2 tablespoons of melted butter, 1 1/4 cups of whole milk,and salt together in a heavy saucepan until smooth. Heat over medium heat, whisking constantly, until thickened and the sauce coats the back of a spoon, 10 to 12 minutes. Stir in the vanilla extract. Pour sauce over warm bread pudding, or serve on the side in a bowl.
Tips
The magazine version of this recipe uses 1 cup sugar.
Cook's Note:
For extra richness, substitute heavy cream for milk; for a lighter dessert, substitute 2% milk for whole milk.
Partner Tip
Reynolds® Aluminum foil can be used to keep food moist, cook it evenly, and make clean-up easier.
Nutrition Facts
Per Serving:546.3 calories; 10.5 g protein; 91.7 g carbohydrates; 128.8 mg cholesterol; 387.3 mg sodium.
Source: www.allrecipes.com