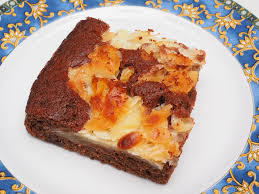 Servings: 6 Time: 50 minutes
Ingredients:
1 tablespoons plain flour
30g unsalted butter, softened
2 sheets frozen butter puff pastry, thawed
Yolk of 1 egg
¾ cup (60g) almond meal
¼ teaspoon vanilla extract
¼ cup (60ml) maple syrup
1/6 cup superfine sugar
1 (220g) firm green pears, peeled, cored, thinly sliced.
Instructions:
Preheat oven to 200°C. For the frangipane, add sugar, butter and vanilla into food
processor, and process for a minute till creamy and pale. Pour in egg yolk, flour and
almond meal, process to mix.
Press 2 pastry sheets to make a thick sheet, repeat for remaining sheets. Cut 6 rounds
with a 10cm pastry cutter. Layer on lined baking tray. Scoop 1 tablespoon of
frangipane smoothly on each pastry and top with pear. Drizzle with maple syrup and
bake for 10 minutes. Dip pastry brush into maple syrup and brush.
Bake for another 5-8 minutes till golden and puffed. Allow to cool and drizzle with
syrup.
Source: Sweet Moments – Celebrating with Easy & Yummy Homemade Desserts