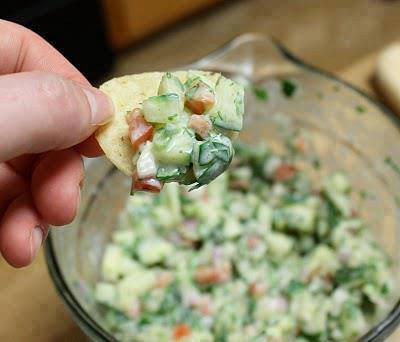 Here's a fantastic way to use cucumbers. You'll love the creamy and crunchy texture and super-fresh flavors… Looove Cucumber Salsa recipe
I love the taste combination of "hot" and "cool" – spicy Mexican food with cool sour cream, warm grilled chicken on a cool salad, and so on. When my dad gave me a ton of cucumbers from his garden, I wondered what on Earth to do with them.
I already put some on sandwiches, wraps and salads for a nice crunch, but I still legitimately had three more cucumbers to eat and needed a way to use a lot at once, so I decided to make this cucumber salsa recipe. The crunchy cucumbers are coated in cool sour cream (woah there…) and the zippy jalapeños really bring the heat. Match made in heaven, during this heat wave.
Oh, and it's pretty healthy and gluten-free and all that. Until you add in the tortilla chips. And until you realized, you've eaten the whole bowl.
FULL RECIPE ON THE NEXT PAGE >>