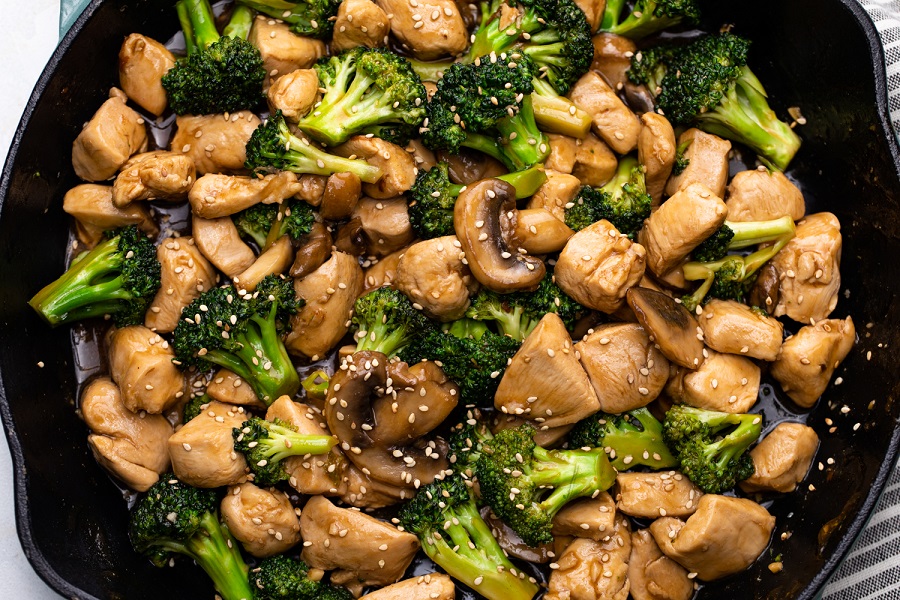 Broccoli and Chicken Stir-FryMade up. Serve with rice.Prep:15 minsCook:20 minsTotal:35 minsServings:3Yield:3 servings
Ingredients
⅔ cup soy sauce
¼ cup brown sugar
½ teaspoon ground ginger
1 pinch red pepper flakes, or to taste
2 tablespoons water
2 tablespoons cornstarch
2 teaspoons vegetable oil, or to taste
3 skinless, boneless chicken breast halves, cut into chunks
1 onion, sliced
3 cups broccoli florets
Directions
Step 1Stir soy sauce, brown sugar, ginger, and red pepper flakes together in a bowl to dissolve sugar into the liquid. Mix water and cornstarch together in a small bowl; stir with a whisk until cornstarch dissolves completely.
Step 2Heat oil in a large skillet over high heat. Fry chicken and onion in hot oil until the chicken is no longer pink in the center and the onion is tender, 5 to 7 minutes. Stir broccoli with the chicken and onion; saute until the broccoli is hot, about 5 minutes. Push the chicken and vegetables mixture to the side of the skillet.
Step 3Pour the soy sauce mixture into the vacant part of the skillet. Stir the cornstarch slurry into the soy sauce mixture until the color is consistent. Move the chicken and vegetables back into the center to the pan; saute until the sauce thickens and coats the chicken and vegetables, about 5 minutes more.
Nutrition Facts
Per Serving: 356 calories; protein 33.4g; carbohydrates 40.7g; fat 7.2g; cholesterol 71.9mg; sodium 3307.3mg.