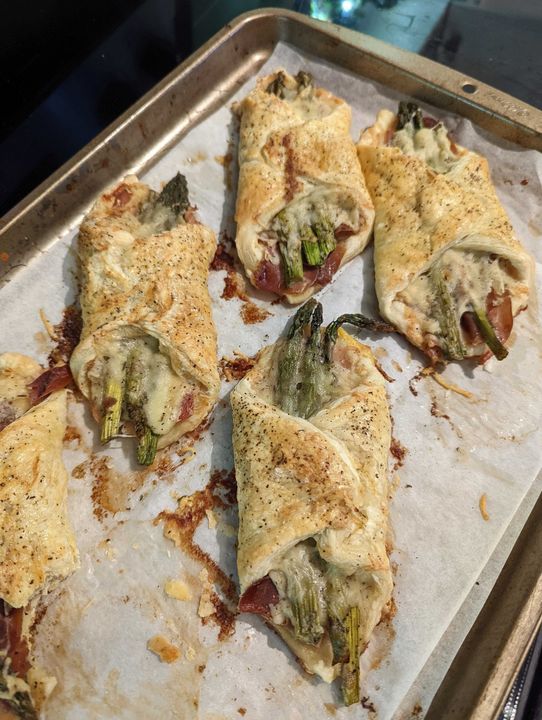 When it comes to serving an appetizer to guests, I am always looking for three things — that it's delicious, that it's at least a little bit impressive, and that it's easy to prepare amongst the hubbub of other preparations for hosting company. In other words, these Cheesy Asparagus Puff Pastry Bundles are my perfect solution. They are delicious in exactly the irresistible way you want something you're serving a guest to be, they rely on storebought puff pastry as a shortcut, and they take about ten or fifteen minutes to get into the oven, tops. Did I also mention that they're absolutely lovely? They are absolutely lovely. And they're a cinch to make.
You will need two sheets of frozen puff pastry, which is usually what the package provides anyway, but read that package when you buy it because the thawing time can take hours and hours in the fridge and it's not something you can easily (or successfully) rush. But it's a simple process, just plan ahead, and pop it in the fridge. That's it. These are best served immediately, so soon before you want to serve them, roll out the sheets of puff pastry and cut each one into six squares.
INGREDIENTS
1 bunch asparagus, woody ends trimmed off
1 tablespoon olive oil
2 sheets frozen puff pastry, thawed
8 oz Gruyere cheese, grated
12 slices prosciutto
1 teaspoon dried thyme
1 egg, beaten
Kosher salt and freshly ground black pepper, to taste
PREPARATION
Preheat oven to 425°F and line a baking sheet with parchment paper.
On a lightly floured surface, roll puff pastry sheets out and cut each rectangle into 6 squares.
Toss trimmed asparagus in olive oil, thyme, and salt and pepper. Set aside.
On each square of puff pastry, arrange a slice of prosciutto (folded in half if needed), 3-4 spears of asparagus, and about 2 tablespoons of cheese.
Wrap bundle by lifting two opposite corners of the puff pastry and wrapping them around the asparagus. Press to seal.
Brush puff pastry with beaten egg, sprinkle with more salt and pepper, and bake until golden and puffed, 12-15 minutes. Serve immediately and enjoy!