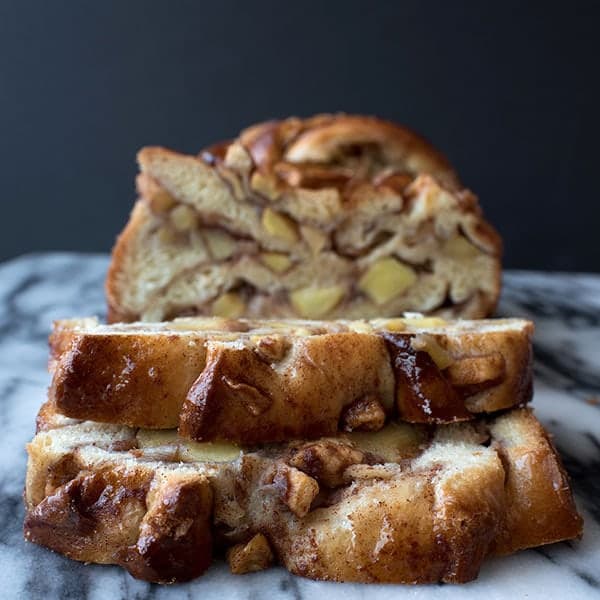 Warm, sweet bread that smells as good as it tastes! My husband and I can't get enough of this bread!!By AMBER
Prep:20 minsCook:1 hrTotal:1 hr 35 minsAdditional:15 minsServings:10Yield:1 loaf
Ingredients
1 (21 ounce) can apple filling
1 cup butter, at room temperature
½ cup white sugar
½ cup (packed) dark brown sugar
2 eggs
1 tablespoon vanilla extract
2 cups all-purpose flour
1 teaspoon baking soda
1 teaspoon ground cinnamon
½ teaspoon salt
¾ cup raisins
¾ cup chopped walnuts
Oops! We cannot find any ingredients on sale near you. Do we have the correct zip code? UPDATEor use the browser toFind Me
Directions
Step 1Preheat oven to 350 degrees F (175 degrees C). Lightly grease a 9×5 loaf pan.
Step 2In a medium bowl, use a potato masher to break up apples in the filling; set aside. In a large mixing bowl, cream together butter, white sugar, and brown sugar. Stir in eggs, apples, and vanilla extract until well blended. Sift together flour, baking soda, cinnamon, and salt. Stir into apple mixture, then stir in raisins and walnuts. Pour batter into prepared pan.
Step 3Bake in preheated oven for 60 minute, until a toothpick inserted into center of the loaf comes out clean. Let bread cool in pan for 15 minutes, then turn out onto a wire rack to cool completely.
Nutrition Facts
Per Serving:509 calories; 25.6 g total fat; 86 mg cholesterol; 418 mg sodium. 66.9 g carbohydrates; 5.9 g protein;
Source: allrecipes.com