15-No-bake blueberry cheesecake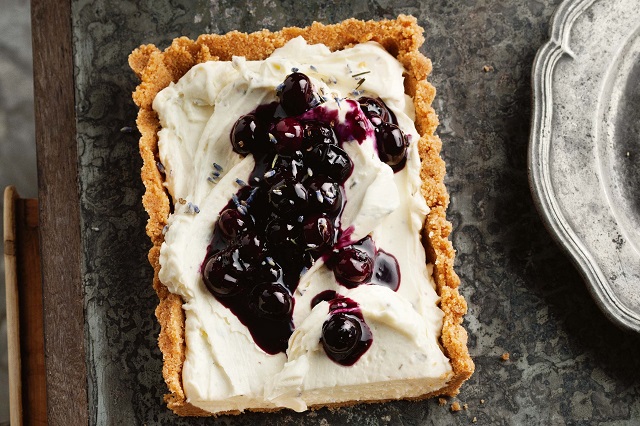 Create a stylish dessert without turning on your oven. This no-bake blueberry cheesecake is made extra special with a hint of lavender.
INGREDIENTS
250g shortbread biscuits
80g unsalted butter, melted
250g softened cream cheese
400g mascarpone
2 tablespoons lavender sugar (see notes)
1/4 cup (80g) blueberry jam
300g blueberries
1 teaspoon arrowroot
METHOD
1.Whiz the shortbread in a food processor until finely ground. Add butter and whiz to combine. Press into a 35cm x 11cm tart pan and chill for 15 minutes or until firm.

Eggspresso Martini00:51
Episode 1 with Darren Robertson and Josh Niland | Make it delicious. |…19:43
Ottolenghi Walnut Cake01:48
Milk Chocolate Mud Cake With White Chocolate Frosting01:55
Milk Chocolate Mud Cake with White Chocolate Frosting01:55
Anchovy, Tomato and Thyme Focaccia02:08
Banana, Caramel and Malt Self-Saucing Pudding01:11How to prepare butter

2.Beat the cream cheese, mascarpone and 1 tbs lavender sugar with electric beaters until combined, then spread in the pan and chill for 1 hour or until set.
3.Meanwhile, place the jam, half the blueberries and remaining 1 tbs sugar in a saucepan over medium heat with 2 tbs water. Cook, stirring, for 2-3 minutes until the berries start to burst, then stir in the remaining berries. Mix the arrowroot with a little cold water in a small bowl, then stir into the berries and cook for a further 30 seconds or until the sauce is thickened. Remove from heat and cool completely.
4.Remove the cake from the pan and serve with the blueberry sauce.
Source: www.delicious.com.au