2-Feeling flancy? You're going to love our blueberry and ginger flan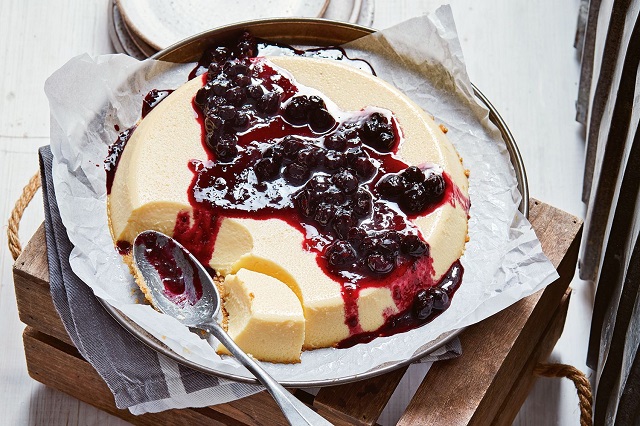 Begin this recipe at least 3 hours ahead.
INGREDIENTS
1 cup (250ml) sugar cane juice
1 cup (220g) caster sugar
10g finely chopped fresh ginger
300g blueberries
Pinch of ground star anise
5 eggs
395g can sweetened condensed milk
250g sour cream, plus extra to serve
1/2 cup (110g) caster sugar
METHOD
1.Place the sugar cane juice and sugar in a saucepan, and simmer over medium-low heat for 2-3 minutes, stirring to dissolve the sugar. Increase heat to medium and simmer for 15 minutes until thickened. Add the ginger, blueberries and star anise, and simmer for 1-2 minutes, then remove from the heat and set aside to cool.
2.Preheat oven to 160°C. Grease a 1L-capacity, 25cm x 5cm flan dish. Place eggs, condensed milk, sour cream and sugar in a blender with a pinch of salt. Whiz to combine. Pour mixture into prepared dish. Place in a large roasting pan and place in oven. With the oven door open, add enough boiling water to roasting pan to come halfway up the sides of flan dish. Bake for 45 minutes or until edges of flan are set with a gentle wobble in the centre. Remove from water batch and cool to room temperature, then transfer flan to the fridge and chill for 2 hours or until cold and set.
3.To remove the flan take a fine flexible blade and run it around the edges. Place a plate on top then invert flan onto serving plate. Pour over blueberry mixture and serve with extra sour cream.
lick 'Next Page' if you want to see more.