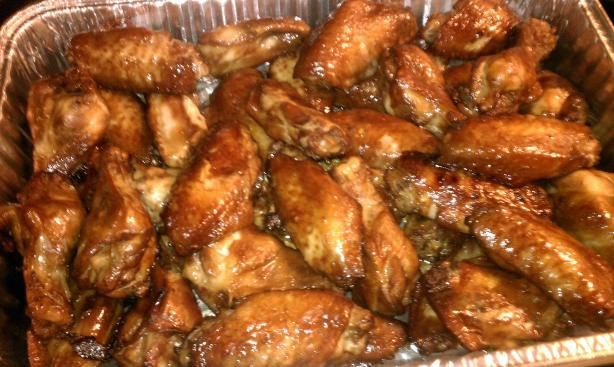 These wings are a hit at every party. I made 10 pounds of these wings for a recent get-together, and not one wing was left at the end of the night. Delicious!By AMY P.
Prep:10 minsCook:1 hrTotal:1 hr 10 minsServings:12Yield:24 wings
Ingredients
Ingredient Checklist
1 cup water
1 cup soy sauce
1 cup white sugar
¼ cup pineapple juice
¼ cup vegetable oil
1 tablespoon minced fresh garlic
1 tablespoon minced fresh ginger
3 pounds chicken wings or drumettes
Directions
Step 1Whisk together the water, soy sauce, sugar, pineapple juice, vegetable oil, garlic, and ginger in a large glass or ceramic bowl until the sugar has dissolved. Add the chicken wings, coat with the marinade, cover the bowl with plastic wrap, and marinate in the refrigerator for at least 1 hour.
Step 2Preheat an oven to 350 degrees F (175 degrees C). Grease baking dishes, and set aside.
Step 3Remove the chicken from the marinade, and shake off excess and place the chicken wings into the prepared baking dishes. Discard the remaining marinade. Bake the wings in the preheated oven until the chicken is cooked through and the glaze is evenly browned, about 1 hour.
Partner Tip
Reynolds® Aluminum foil can be used to keep food moist, cook it evenly, and make clean-up easier.
Nutrition Facts
Per Serving:202 calories; 10.1 g total fat; 24 mg cholesterol; 1227 mg sodium. 19.3 g carbohydrates; 9 g protein;