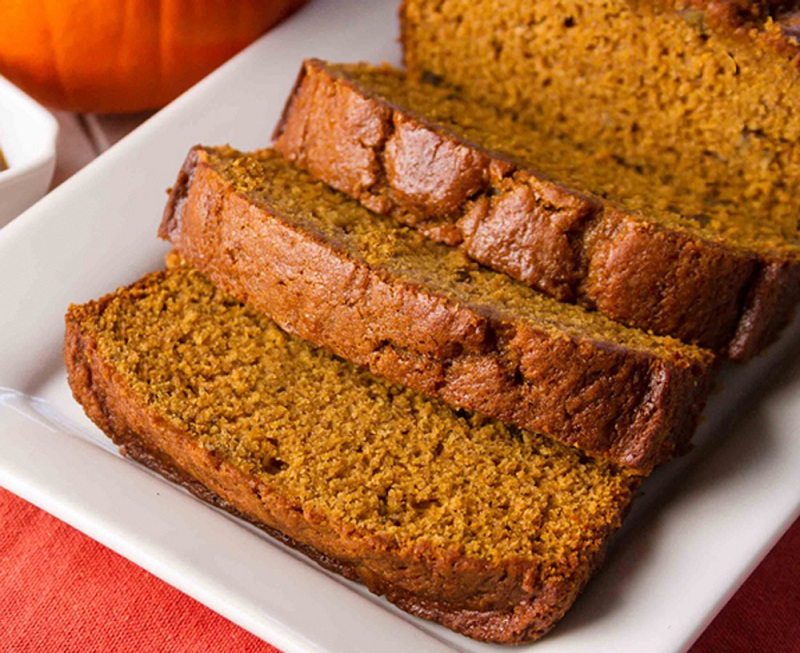 This spicy pumpkin bread comes out VERY moist even without oil. It tastes just like pumpkin pie!Prep:10 minsCook:1 hrAdditional:1 hrTotal:2 hrs 10 minsServings:32Yield:32 servings
Ingredients
2 cups white sugar
1 cup brown sugar
4 eggs, lightly beaten
1 (16 ounce) can solid pack pumpkin
3 ½ cups all-purpose flour
1 teaspoon baking soda
1 teaspoon salt
2 teaspoons ground cinnamon
2 teaspoons ground nutmeg
½ teaspoon baking powder
½ teaspoon ground cloves
1 teaspoon ground allspice
½ cup water
Directions
Step 1Preheat oven to 350 degrees F (175 degrees C). Grease two 9-inch loaf pans.
Step 2Mix white sugar, brown sugar, and eggs in a large bowl; stir in pumpkin and mix well. Combine flour, baking soda, salt, cinnamon, nutmeg, baking powder, cloves, and allspice in a bowl; add alternately with water to pumpkin mixture. Pour into prepared loaf pans.
Step 3Bake in preheated oven until golden and a toothpick inserted into the center comes out clean, 60 to 65 minutes. Cool in pans for 10 minutes before removing to cool completely on a wire rack.
Nutrition Facts
Per Serving:140 calories; protein 2.4g 5% DV; carbohydrates 31.2g 10% DV; fat 0.9g 1% DV; cholesterol 23.3mg 8% DV; sodium 165.1mg 7% DV.