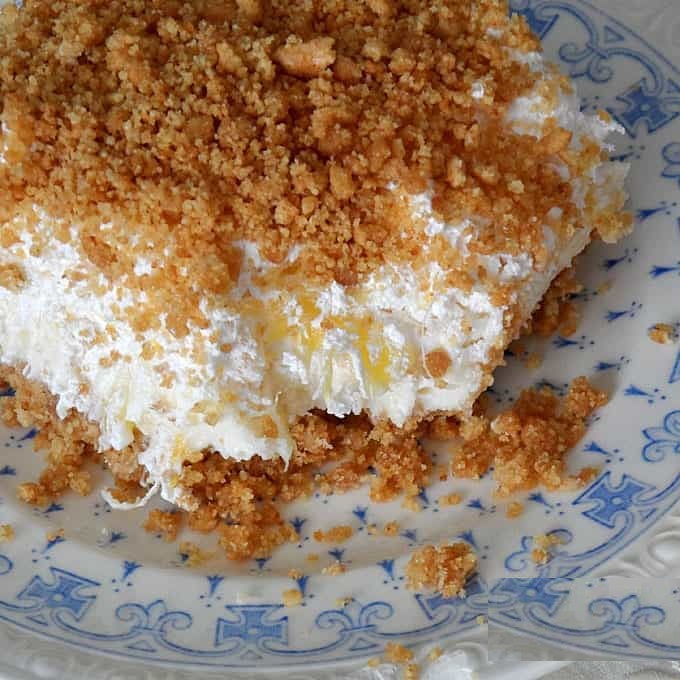 INGREDIENTS
8 ounces vanilla wafers
20 ounce canned crushed pineapple drained
1 cup sugar + 1 tablespoon
2 pasteurized eggs
3/4 stick of margarine
1 cup pecans
1 teaspoon vanilla extract
1/2 pint whipping cream
INSTRUCTIONS
Crush vanilla wafers in a food processor until a fine consistency. Pour half into the bottom of a 9×9 dish.
Pour half of pecans on top of wafers.
Cream margarine, sugar, and eggs until thick, then pour over vanilla wafers and pecans.
Pour second half of the pecans on top of the mixture.
Drain and then pour the crushed pineapple in an even layer on top of pecans.
Add vanilla and one tablespoon of sugar to heavy whipping cream and whip, then pour over dish.
Chill and then slice into squares before serving.
You can garnish with extra pecans crushed vanilla wafers, if desired.
NOTE
I've seen some recipes call for graham cracker crust. It's an easy substitution if you don't have wafers on hand.
NUTRITION
Calories: 400kcal