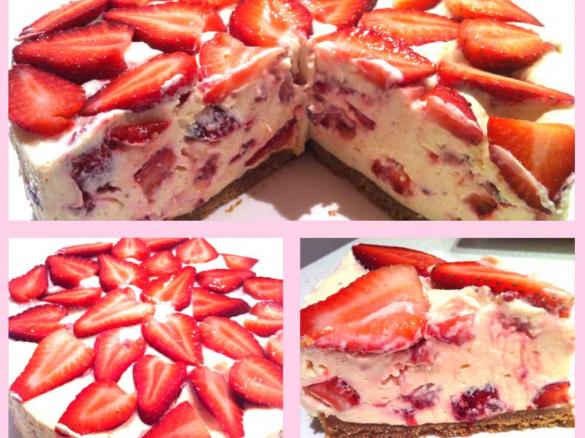 This easy No Bake Strawberry Cheesecake recipe is full of strawberry flavor! Made with gelatin and cooked strawberries, it has a thick and creamy texture that makes it a totally irresistible cheesecake. The perfect strawberry dessert for spring and summer.
Strawberry desserts that depend on fresh strawberries for their flavor tend to present a bit of a problem. Pureeing enough berries to give you a good strawberry flavor ends up being a lot of liquid, which doesn't always work well. In a no bake cheesecake, it's a problem because in order to not have your cheesecake melt all over the place, you need to thicken that strawberry puree.
To accomplish that in this cheesecake, I used both gelatin and cornstarch, which is cooked with the strawberry puree over the stove. I tried using just one or the other, but wasn't happy with either result. You need to add so much of either that it starts to really effect the flavor of the cheesecake. I don't know about you, but tasting gelatin when I bite into a cheesecake is not what I want. So I used just the right combination of both gelatin and cornstarch to get a firmer texture cheesecake without interfering with the flavor.
PLEASE, USE THE NEXT PAGE BUTTON BELOW FOR THE RECIPE AND INGREDIENTS AND