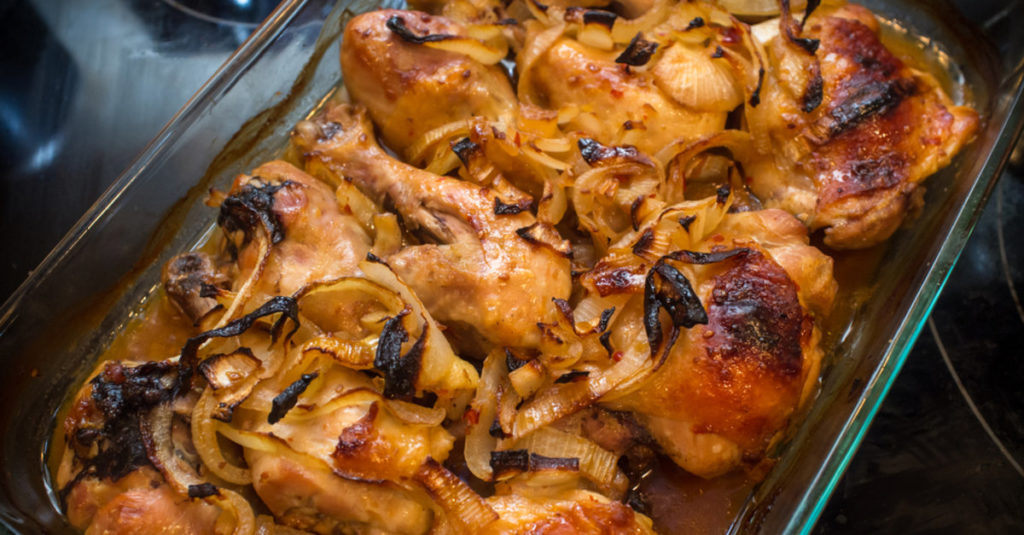 Juicy oven baked chicken breasts full of flavor and made with just a handful of ingredients. An easy chicken dinner idea that's on the table in 30 minutes!
Quick and easy baked chicken breasts recipe made with a bit of butter, some brown sugar, and garlic. This Baked Garlic Brown Sugar Chicken is a super simple dish you can prepare in very little time, perfect for a fast and delicious weeknight meal. It's also freezer friendly and requires minimal prep. 
I have forever and always been a big lover of baked chicken breasts dinners. Thus, I spend a lot of my cooking time focused on creating tender and juicy chicken recipes; HELLO Easy Baked Chicken Breasts – the BEST easy-chicken-recipe of all the times!
INGREDIENTS:
8 bone-in, skin-on chicken thighs
Kosher salt and freshly ground black pepper, to taste
3 tablespoons unsalted butter, divided
4 cloves garlic, minced
1/4 cup brown sugar, packed
1 tablespoon honey
1/2 teaspoon dried oregano
1/4 teaspoon dried thyme
1/4 teaspoon dried basil
2 tablespoons chopped fresh parsley leaves
DIRECTIONS:
Preheat oven to 400 degrees F.
Season chicken thighs with salt and pepper, to taste.
Melt 2 tablespoons butter in a large oven-proof skillet over medium high heat. Add chicken, skin-side down, and sear both sides until golden brown, about 2-3 minutes per side; set aside.
Melt remaining tablespoon butter in the skillet. Add garlic, and cook, stirring frequently, until fragrant, about 1-2 minutes. Remove from heat.
Stir in brown sugar, honey, oregano, thyme and basil until well combined. Return chicken to the skillet.
Place into oven and roast until completely cooked through, reaching an internal temperature of 175 degrees F, about 25-30 minutes.
Serve immediately, garnished with parsley, if desired.