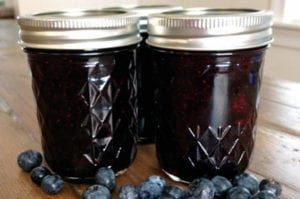 Ingredients
2 1/2 cups fresh blueberries cleaned and destemmed
1 1/4 cups granulated sugar
1 Tablespoon lemon juice
1 teaspoon fresh lemon zest
Instructions
In a large saucepan combine blueberries, sugar, lemon juice and zest.
Bring to a boil and squish/press the blueberries with a potato masher.
Continue to boil, stirring frequently until preserves thicken, about 15 to 20 minutes.
Pour preserves into a sealed container and store in the refrigerator until ready to use.
Notes
I make preserves to be used in specific recipes, not to can and store.
If you would like to can your preserves, place in glass jars with cap and bands. Place in boiling water for 15 minutes to seal.
This recipe make 1 1/2 cups of Blueberry Preserves.
Nutrition
Calories: 49kcal | Carbohydrates: 12g | Potassium: 11mg | Sugar: 11g | Vitamin A: 10IU | Vitamin C: 1.8mg | Calcium: 1mg