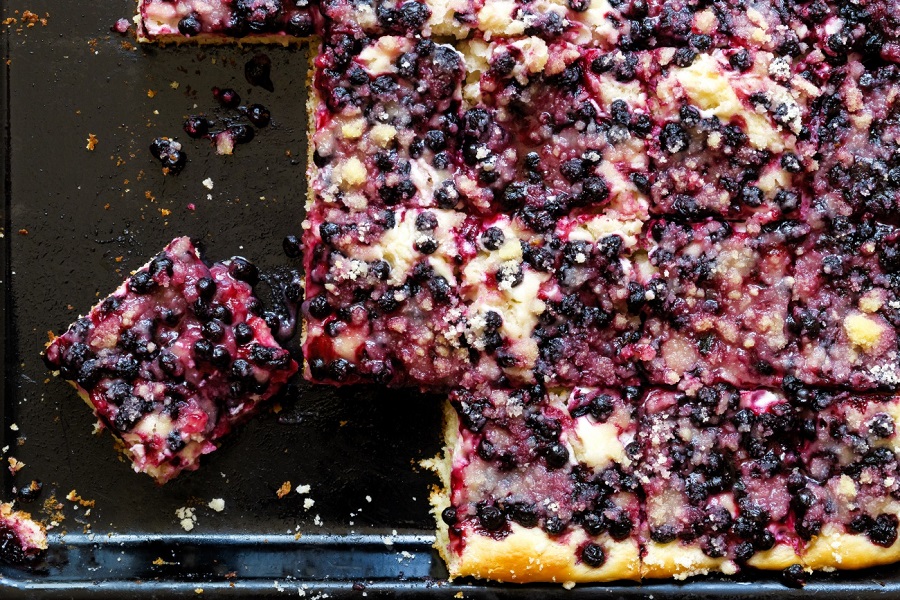 INGREDIENTS
For the base:
1 1/4 cups granulated sugar
1 cup all-purpose flour
1/2 cup (1 stick) unsalted butter, melted
2 large eggs
1 teaspoon vanilla extract
1 teaspoon baking powder
1 teaspoon salt
For the streusel and topping:
1 cup granulated sugar
1 cup flour
8 oz cream cheese, cubed
1/2 teaspoon salt
2 cups blueberries
PREPARATION
Preheat oven to 350°F and grease an 8×10 baking dish with nonstick cooking spray. Set aside.
In a small bowl, whisk together the flour, baking powder, and salt. Set aside.
In a mixing bowl, beat the sugar and butter with an electric mixer on medium speed until well combined, about 2 minutes. Add eggs and beat until mixture has lightened in color, about 2 minutes more. Mix in vanilla.
Turn mixer to low and slowly add the flour mixture, mixing until just combined. Pour mixture into prepared pan and scatter blueberries evenly across the top.
In a small bowl, make the streusel topping. Stir together sugar, flour, and salt. Add cream cheese and use your fingers or a fork to combine until pebbly, crumbly pieces form.
Sprinkle streusel topping over blueberries and bake until a toothpick inserted into the center comes out clean of batter, 35-40 minutes. Let cool before slicing into squares and serving. Enjoy!
Adapted from Spicy Southern Kitchen.