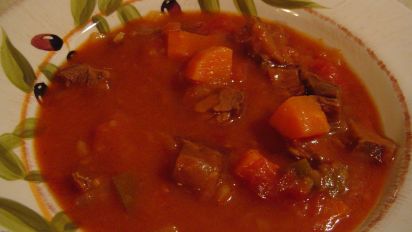 "Easy, versatile soup. Try changing recipe to Vegetable Beef soup by adding veggies, more liquid and seasoning. If desired, ham may be used in place of beef with a can of navy beans (rinsed)."
This Beefy Tomato Soup is our most popular soup recipes! This comforting soup is loaded with beef and pasta simmered in a tomato cream broth!
Because I like to try and use what we have in the house, I opened the freezer, the fridge and all the cabinets to take stock of what we had on hand. Sometimes going back out to the grocery store is just not something I want to do.
Ingredients
2 pounds lean ground beef
1 onion, chopped
2 stalks celery, chopped
1 (14.5 ounce) can diced tomatoes
2 cups water
2 cups tomato-vegetable juice cocktail
2 cups tomato juice
1/2 teaspoon garlic powder
salt and pepper to taste
Directions
Place beef, onion, celery and diced tomatoes in a stock pot. Add water, bring to a boil and then simmer for 1 hour.
Add tomato-vegetable juice, tomato juice, garlic powder and season with salt and pepper. Bring to boil, simmer for 1 1/2 hours and then serve.