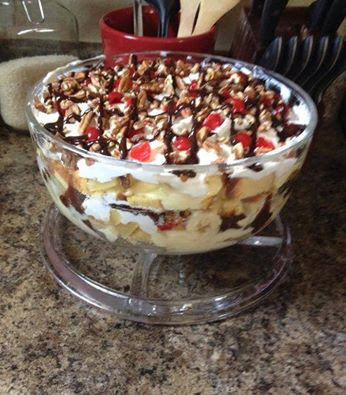 This trifle is a great twist on a banana split. A refreshing summertime treat and great crowd-pleaser!Prep:30 minsTotal:30 minsServings:8Yield:1 trifle
Ingredients
2 cups cold milk
1 (5.1 ounce) package instant vanilla pudding mix
1 (8 ounce) can crushed pineapple, drained
1 (12 ounce) container frozen whipped topping, thawed
1 marble pound cake, cut into 1/2-inch cubes
2 cups sliced strawberries
2 medium bananas, sliced
2 tablespoons chocolate syrup, or to taste
¼ cup chopped walnuts
1 large strawberry
Directions
Step 1Whisk milk and pudding together in a large bowl for 2 minutes. Stir in pineapple. Fold in whipped topping.
Step 2Place 1/3 of the pound cake cubes in a trifle bowl or other large glass bowl. Pour 1/3 of the pudding mixture on top. Line the side of the bowl with sliced strawberries. Place remaining strawberries over the pudding.
Step 3Cover strawberries with 1/3 of the pound cake cubes. Pour 1/3 of the pudding mixture on top. Line the bowl with banana slices this time. Place remaining bananas over the pudding. Cover bananas with remaining pound cake cubes. Spread remaining pudding on top.
Step 4Drizzle chocolate syrup all over the pudding, going in different directions. Sprinkle walnuts over chocolate. Make lengthwise cuts into the large strawberry, keeping the stem end intact. Fan out slices and place on top of the trifle. Serve immediately or refrigerate until ready to serve.
Cook's Notes:
You can use low-fat whipped topping to save calories.
Tips
After slicing bananas, sprinkle with lemon juice to prevent browning. You don't want to see brown bananas lining the glass bowl!
Nutrition Facts
Per Serving: 503 calories; protein 6.5g; carbohydrates 69.7g; fat 23.8g; cholesterol 106.8mg; sodium 480.8mg.
 allrecipes.com